Visiting Universal Studios
While in Florida, I knew we had to go to some Orlando theme parks. Alex has never ridden a roller coaster (I know, crazy) and since I love roller coasters, I wanted to be there when he rode one for the first time. Since we were short on time, we decided to drive to Orlando (it's about 4 hours from my mom's house in Naples) for two days. We spent one day at Universal Studios/Islands of Adventure and one day at Walt Disney World.
Universal Studios and Islands of Adventure are two of my favorite parks. They have amazing roller coasters and Harry Potter World! What more could you want?! Here's everything you need to know about visiting Universal Studios and Islands of Adventure!
---
Tickets
You can buy tickets to Universal Studios or Islands of Adventure on their own, or you can buy a Park-to-Park pass that allows you to go between the two parks (the Hogwarts Express travels between the two). For a one-day Park-to-Park pass, it's about 170 dollars. There is usually a Florida resident discount but we happened to go on a black-out date. There are a ton of different ticket options so check their website for details.
---
Favorite Rides
Alex loved The Hulk but my favorite ride was the Rip Ride Rockit Roller Coaster. I wish I had purchased the video of our ride because Alex was terrified at the top and closed his eyes. I also LOVED Doctor Doom's Fearfall (it's like the Tower of Terror). This was my first time on a ride like that because normally I shy away from free fall type rides (I was in a full-on panic right before we got on) but I loved it! I would do it again in a heartbeat.
---
When to visit?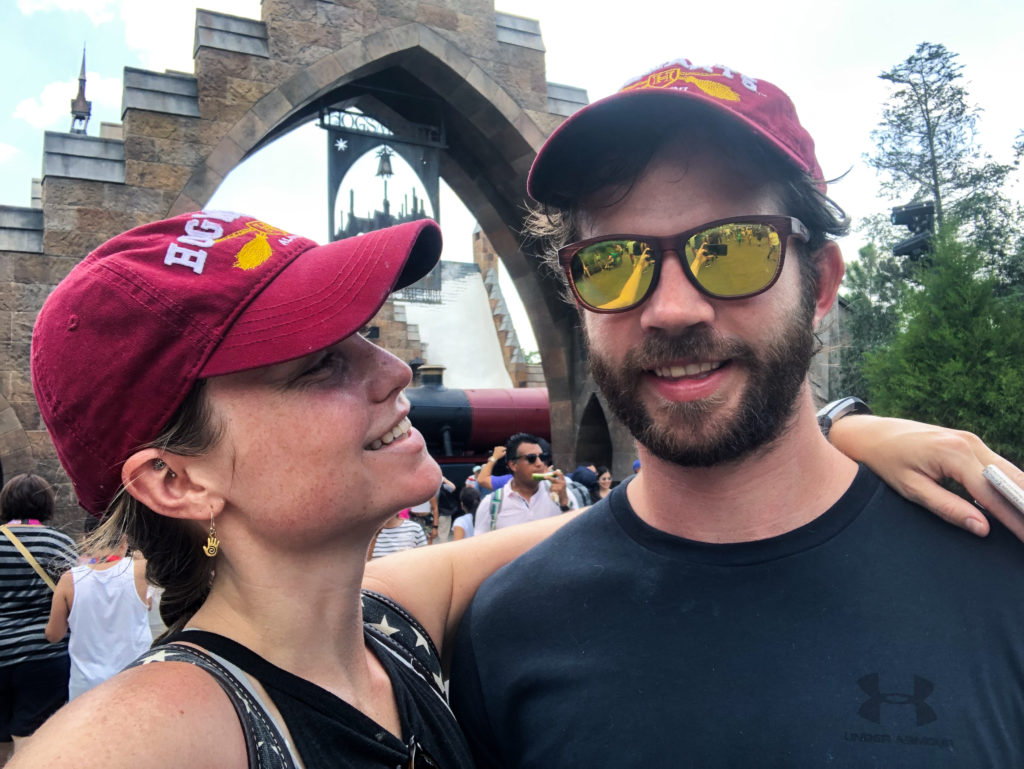 Alex and I were a little limited on when we go to Orlando since we were only in the States for five weeks, but I would have loved if we had gone in February instead of July. Bottom line: it was brutally hot and humid and since it's the summer holidays, the crowds were insane. We went on a Monday and Tuesday and still had to wait almost two hours for some of the rides. The humidity was way worse than South Africa and Alex (the guy raised in Africa) was sweating more than I'd ever seen. But hey, that's Florida for ya. Luckily the rides had fans (and sometimes air conditioning) in the waiting area.  
---
Where to stay?
We incorporated our trip to Universal with a trip to Walt Disney World, so stayed at a Disney resort – Disney's All-Star Music Resort. The hotel was nice, clean, and provided free transportation to all the Disney parks (we were about 20 minutes away from Magic Kingdom) but not to Universal. We only stayed for one night otherwise we would have taken advantage of the pools, cafeteria, and other amenities. Staying at a Disney Resort is nice because you can pick up your MagicBand from the hotel reception and you don't have to pay for parking at the parks. We also used the Disney app to unlock our room so no need for a key. A standard room was around $150. There are so many different Disney resort options ranging from basic to extravagant (well, nothing is "basic" at Disney). Check them out here. 
---
What is your favorite roller coaster at Universal/Islands of Adventure? Which theme park should Alex check out next? Let me know in the comments!