8 Travel Workout Essentials
Last month I wrote about my favorite workouts to do while traveling. This week I thought I'd show you the equipment that helps me stay fit when traveling. In fact, a lot of this stuff I brought from London to Zambia when I initially came to visit in March.
---
Yoga mat
This is essential for me since I do yoga almost daily, but it's also great for any workout where you need a more stable footing. Yoga mats stop you from slipping and sliding during a workout. Click here to check out a list of the best yoga mats, including ones that are thin enough to fit in your suitcase.
---
Yoga block
A yoga block has been so helpful for my yoga practice, but it can also help you ease deeper into certain stretches. I got my yoga block at a shop here in Lusaka, but you can buy one in just about any fitness shop or on amazon.
---
TRX system
Alex and I use our TRX for all sorts of weight-lifting workouts. You can use the system to target almost any muscle group in the body. Check out this link for a list of TRX workouts, and click here to find the TRX we bought on Amazon. It takes up so little space in a suitcase!
---
Long Resistance bands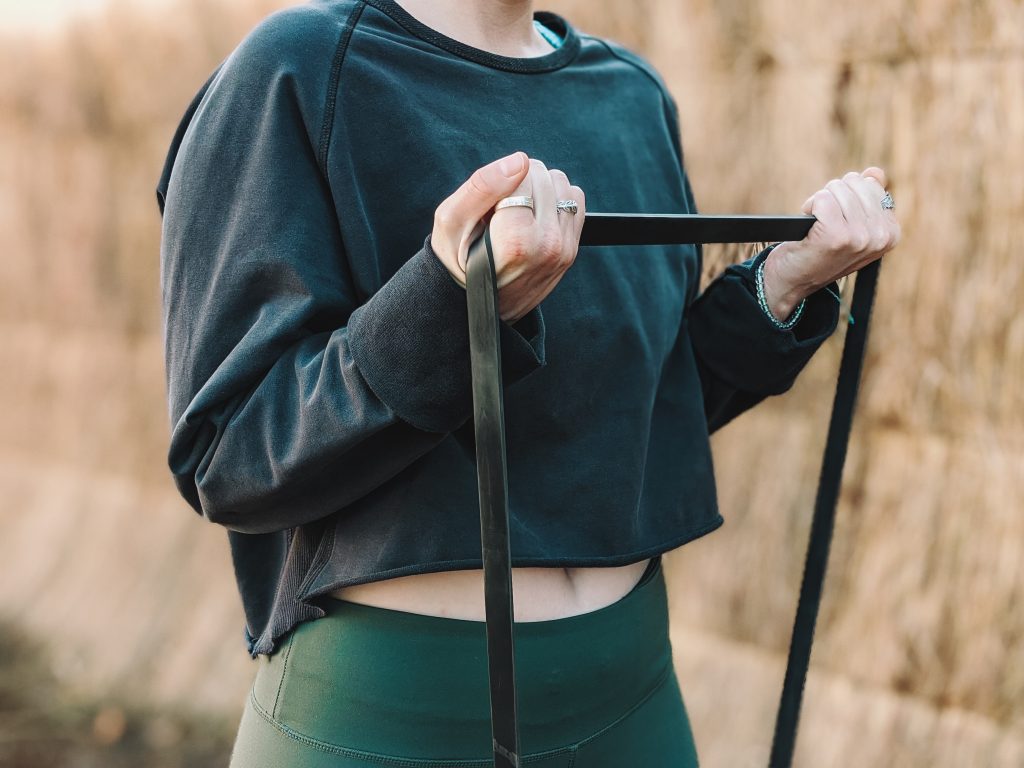 I use these bands for weight-lifting but they are also great at assisting me when I am not strong enough for a certain workout. The bands help me do more reps of pull-ups and go closer to the ground when doing push-ups. I also use these bands to aid in stretching. You can get a set similar to this on Amazon.
---
Short resistance bands
These bands are great for glute exercises. I bought mine from b_nd and got a medium and extra heavy strength. They are made of fabric so they don't dig into your skin when you use them.
---
Weight-lifting gloves
These are not essential, but they really help, especially when lifting cement blocks and using the thin rubber bands.
---
Weights?
We would love to have a set of dumbbells to use for weight-lifting, but unfortunately they are quite expensive and not easy to travel with. Therefore, we use cement blocks and things that we find around the yard. It's important to be flexible when working out while traveling or at home.
---
Fitness e-book or YouTube videos
This has been a game-changer for me while working out at home these last few months. I love having workouts to follow instead of trying to motivate myself to do something. I've been loving Yoga with Adriene for yoga but there are countless other people you can follow on YouTube. I also recommend trying e-books from your favorite (certified) fitness gurus.
---
What are your travel workout essentials? Let me know in the comments!