Devil's Pool // Swimming on Top of Victoria Falls
Swimming on top of one of the world's largest waterfalls (and a waterfall that happens to be one of the seven natural wonders of the world) is definitely a bucket list adventure. Sitting atop Victoria Falls is a small pool known as Devil's Pool. As the name suggests, this is no tame adventure. Here's everything you need to know about swimming in Devil's Pool:
---
When to go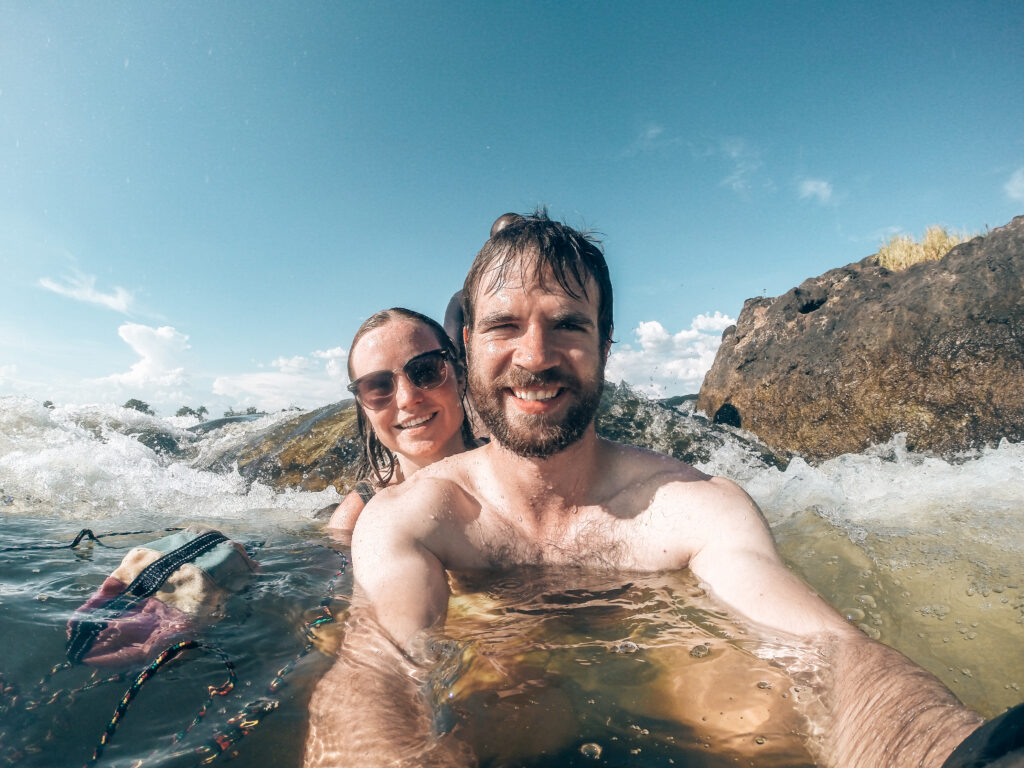 Devil's Pool is only available when the water level is low, usually from July to January. If you go when the water is too high, you could easily get swept over the edge.
---
Who to book with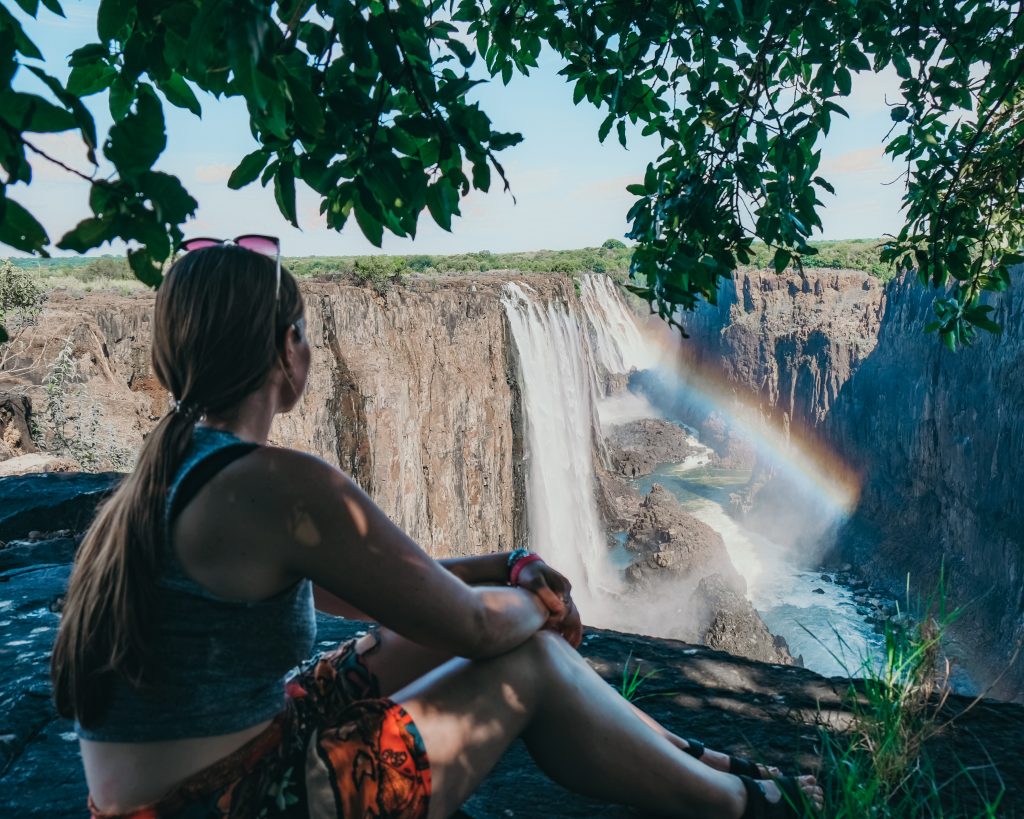 Despite what you may see online, the only company that can take you to Devil's Pool is Tongabezi. If you see another company on Trip Advisor (or elsewhere) that is offering to take you to Devil's Pool, they are acting as a middle man and charging you more, then booking you through Tongabezi themselves. You might as well book directly through Tongabezi and save the money. Also, if you meet a random person at Victoria Falls who claims to be a Devil's Pool guide – run! Those people are often scammers, and worse, thieves.
You can book at Tongabezi's website. The experience costs $110-175 depending on the time of day you go and what meal they provide (tea and coffee is cheaper than the lunch option – however, we went for tea/coffee and they basically served an entire meal, so keep that in mind).
---
What the experience is like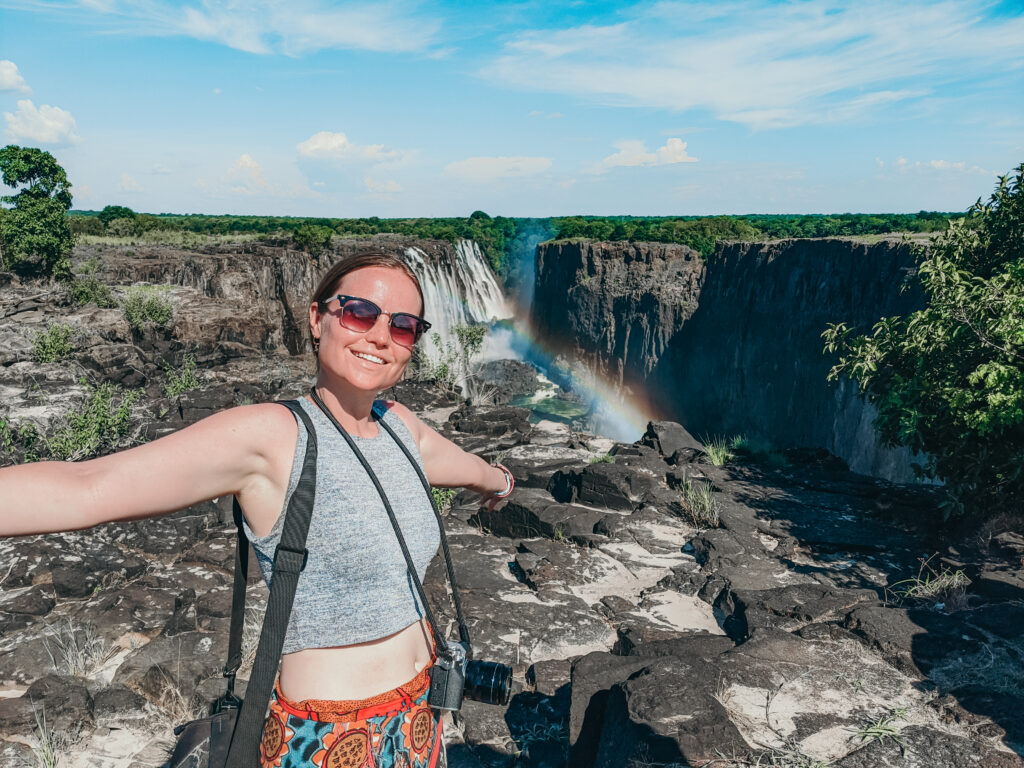 The experience is called a "Livingstone Island Tour". There is a small island that sits atop Victoria Falls, which is where you access Devil's Pool. You can visit the island tour any time of year, but Devil's Pool is only available in the low season.
You start the experience on the shore of the Zambezi on the Zambia side and a Tongabezi boat takes you to Livingstone Island. You start by touring the island and taking pictures on the edge of the falls.
Next, you swim across the Zambezi toward Devil's Pool. Yes, that's right, you cross the top of the waterfall by swimming, and yes you can feel the current pulling you toward the falls. However, the guides take you on the safest route, you hold hands, and there is a rope to hold on to if you want.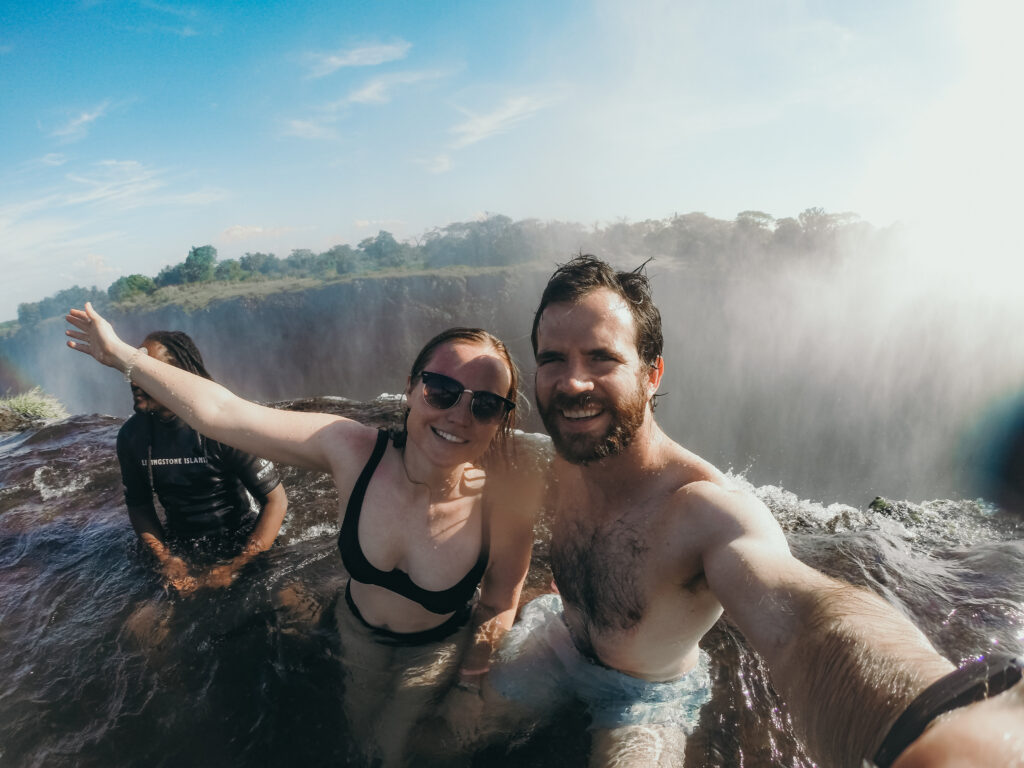 Once you get to Devil's Pool, you take turns swimming to the edge of the waterfall, taking pics, and hanging over the edge. It is the most insane experience ever. I thought that the pool would be calm and separated from the falls by rocks, but nope, Devil's Pool isn't calm and the only thing stopping you from going over the falls is your own common sense not to step a foot to the right. And yes, the current is totally trying to take you over the whole time.
Once you are done swimming, they take you back to Livingstone Island for tea, coffee, alcoholic drinks, and snacks. If you pay for the lunch excursion, you get lunch as well. Then, back on the boat to head to land.
---
Is it safe?
As I said, the guides take safety very seriously. There is a rope to stop you from going to the "unsafe" part of the pool and the guides hold your feet when you are taking pictures over the edge. But let's be real. If it was totally safe, that would take away part of the fun 😛
---
What to bring
Bring a swimsuit, sunscreen, a camera (a GoPro was a must for us), shoes that can walk on rocks (unless you are willing to go barefoot), and tip money. Once you get to Devil's Pool, a guide onshore takes pictures using your camera, so make sure your camera is simple or in a mode that a guide can easily use.
P.S. If you are staying in Zimbabwe, you will need to get a Zambia visa and cross the border to do Devil's Pool.
---
I also posted a YouTube video all about our experience so check that out here!
If you are more into short, highlights video, check that out here:
---
Any questions about Devil's Pool? Let me know in the comments!