Victoria Falls, Zambia & Zimbabwe
Tips for Visiting Victoria Falls
Victoria Falls is one of the Seven Natural Wonders of the World and it's a well-deserved title. The Falls sits between Zambia and Zimbabwe and is a tourist's dream. Here are all my tips for visiting Victoria Falls:
---
When to go?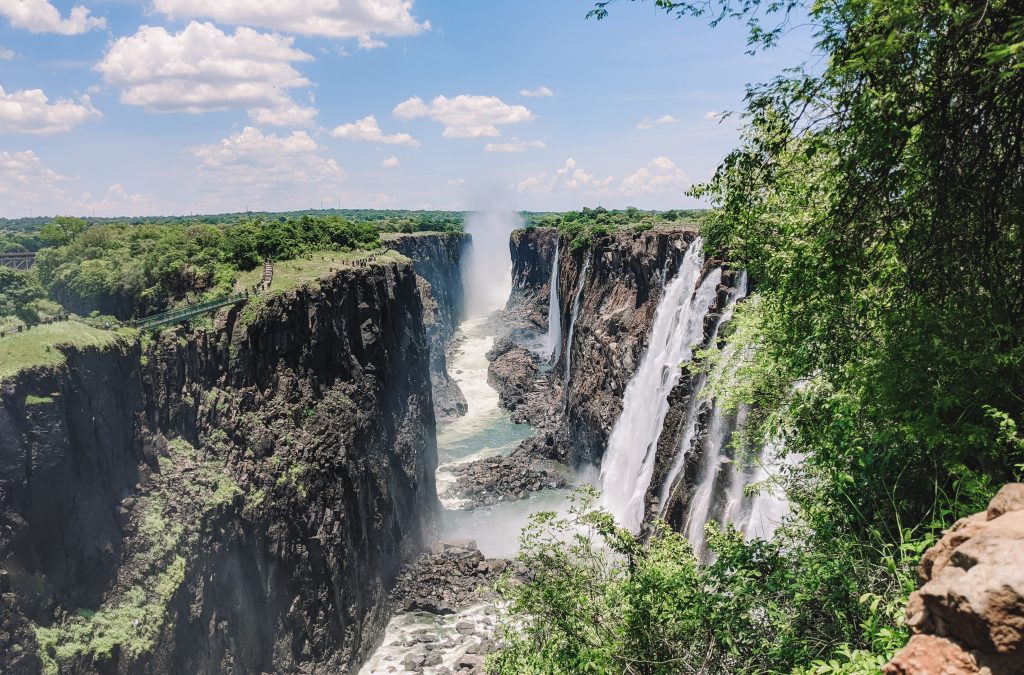 Victoria Falls is gorgeous all year round. However, there are pros and cons to visiting during the different seasons. October to February is the rainy season in Zambia/Zimbabwe, which means you could potentially be caught in a downpour if you are visiting at that time. However, the rainy season leads to the high-water season at Victoria Falls, which is usually January to July. This is the time when the falls are the most full and there is a ton of water rushing over the edge.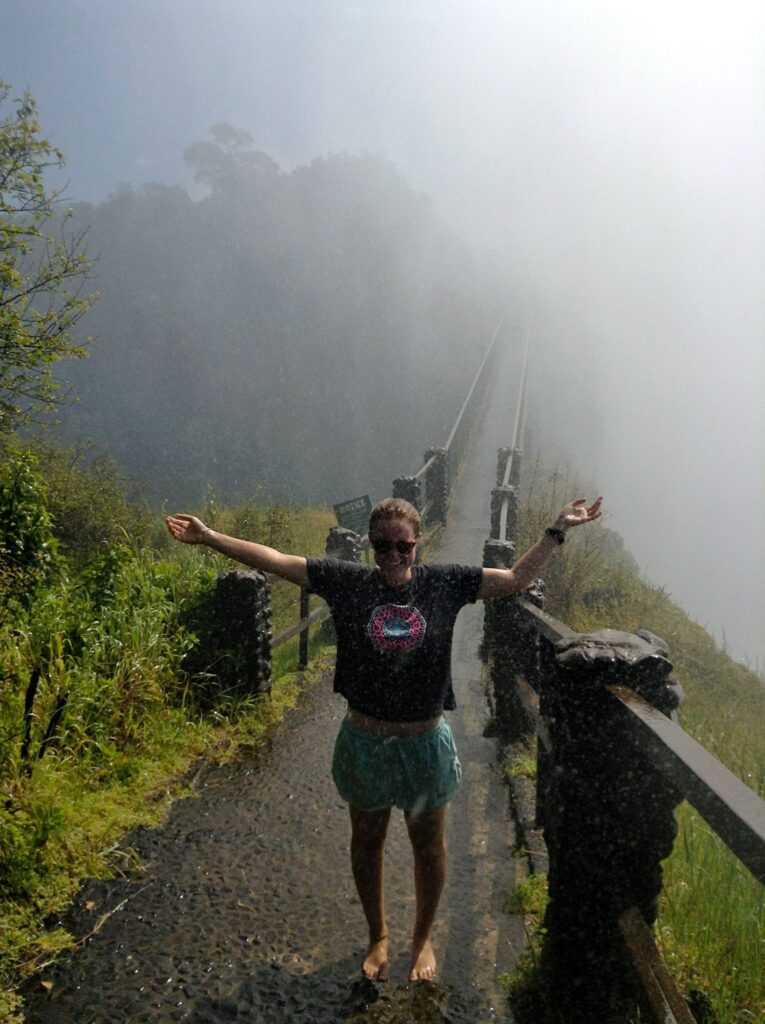 The views of the falls somewhat diminish in the high-water season because there is simply too much water. You also get completely soaked while walking to the different viewpoints. Another consideration is the heat. The temperature is quite hot in the summer and comfortable in the winter. Additionally, the activities available at Victoria Falls changes depending on the season and water level.
---
Zambia vs. zimbabwe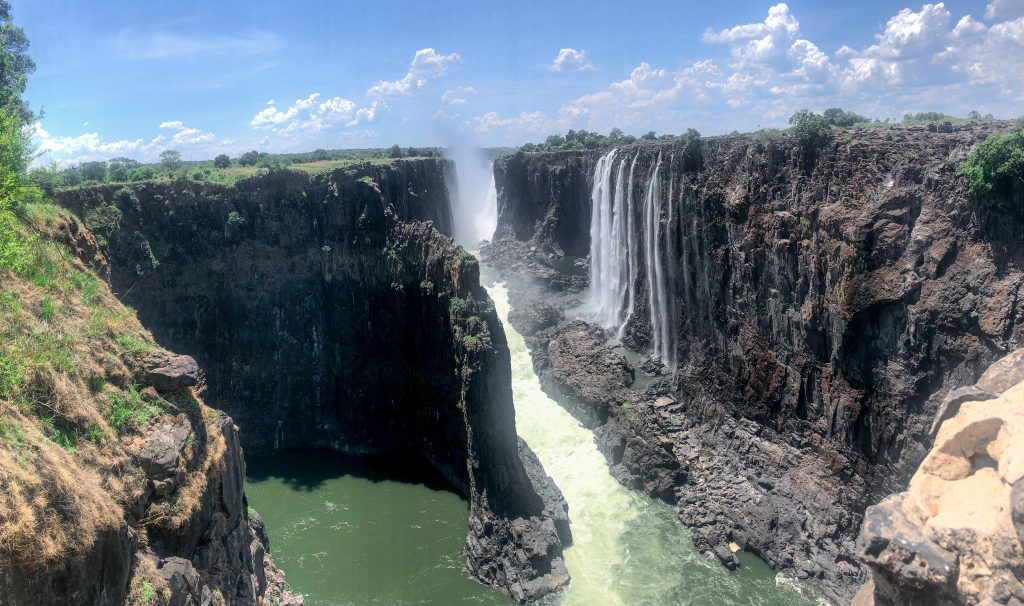 Victoria Falls can be experienced in Zambia and Zimbabwe. The view of the falls is arguably better from the Zambia side. The Zambia side is also where you access the Boiling Pot and Devil's Pool. However, Victoria Falls town on the Zimbabwe side is a better town than Livingstone, Zambia. Victoria Falls town is more touristy and within walking distance of the falls. When you stay in Livingstone, you need a car or taxi to visit the falls. The town of Livingstone is also a bit rundown. Luckily, it is quite easy to cross the border between Zambia and Zimbabwe (you can even walk across the border) and you can get a single-day visa for quite cheap without applying in advance.
---
Where to stay?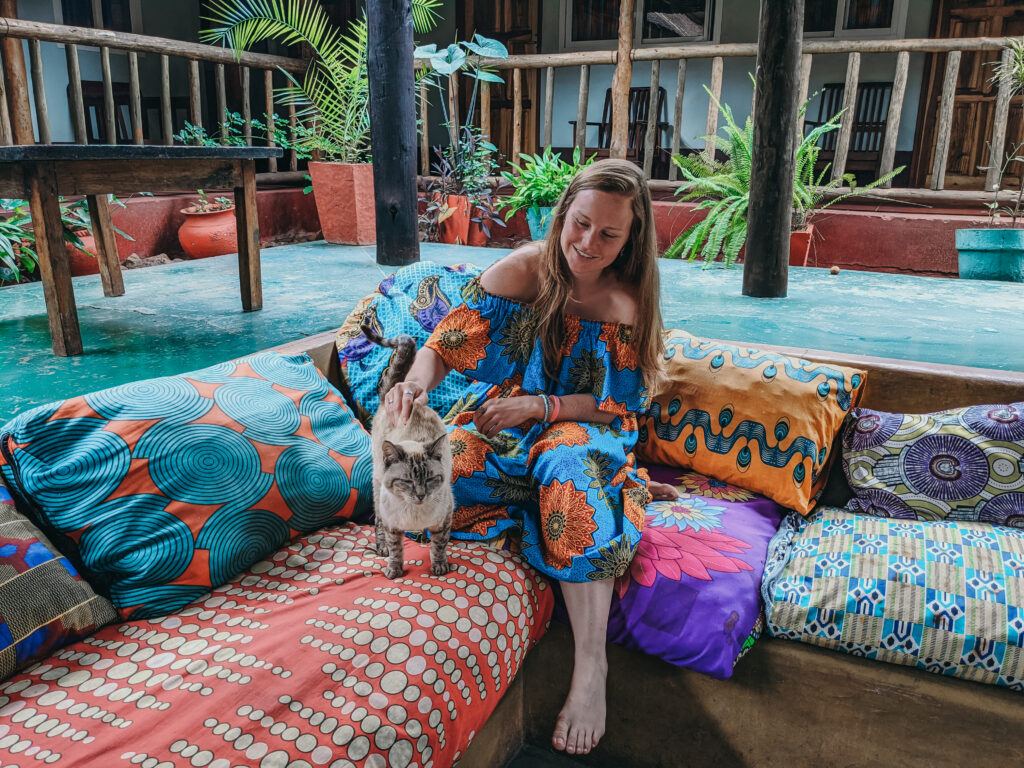 There are many places to stay at Victoria Falls, whether on the Zambia side or the Zimbabwe side, and accommodation ranges from backpackers to 5-star lodges. On my first visit to Victoria Falls, we stayed in Victoria Falls town, Zimbabwe at Victoria Falls Backpacker Lodge. On our most recent visit, we stayed in Livingstone, Zambia at Jollyboys Backpackers.
---
Activities to do at victoria falls
Victoria Falls is one of my favorite places to visit. Whether you prefer to relax on a boat floating down the Zambezi River or jump off a bridge over the falls, there is something for everybody.
---
View the falls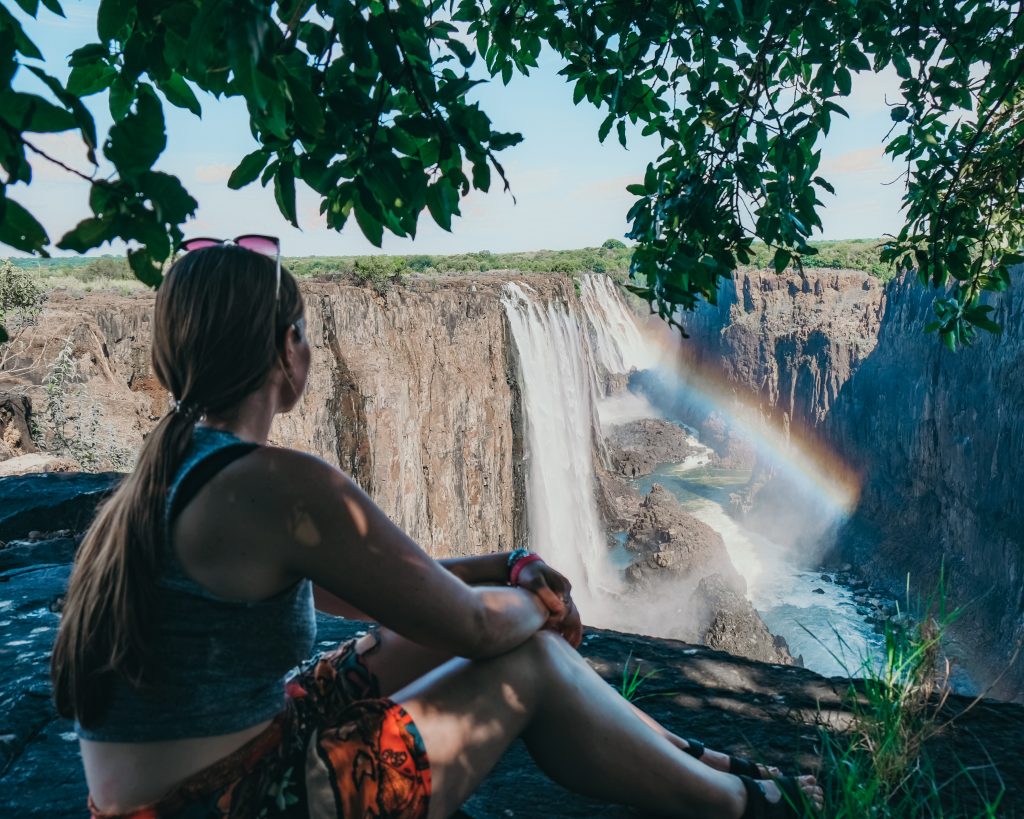 I highly recommend spending an afternoon walking around Victoria Falls and visiting the many viewpoints. There are viewpoints on both the Zambia and Zimbabwe sides and they are both in National Parks. On the Zambia side, you view the falls from Mosi-oa-Tunya National Park, and on the Zimbabwe side, you view the falls from Victoria Falls National Park. As I said, the views of the falls are better from the Zambia side. Entering the National Park ranges from a few dollars for citizens and residents and up to ~30 dollars for foreigners.
---
Sunset cruise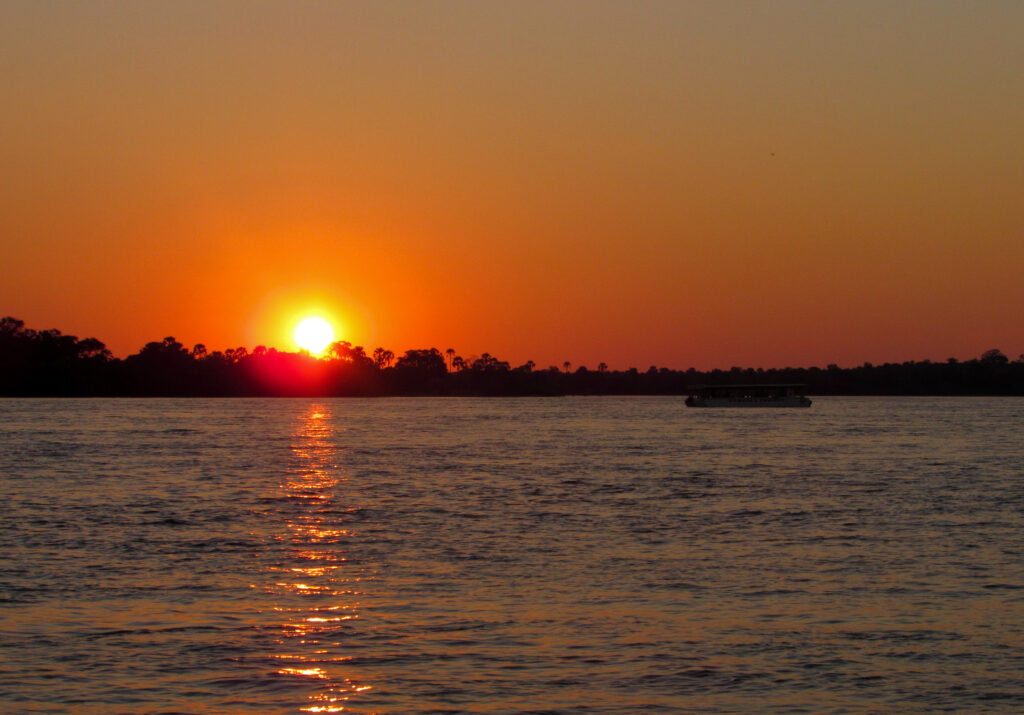 Sunset cruises (also known as sundowners) are boat tours of the Zambezi River where you can see elephants, hippos, and crocodiles (among other African animals). Unlimited drinks while on the boat is an added benefit. Ask your lodge or backpackers and they can help organize the cruise. Read this blog post for more information.
---
Bungee Jumping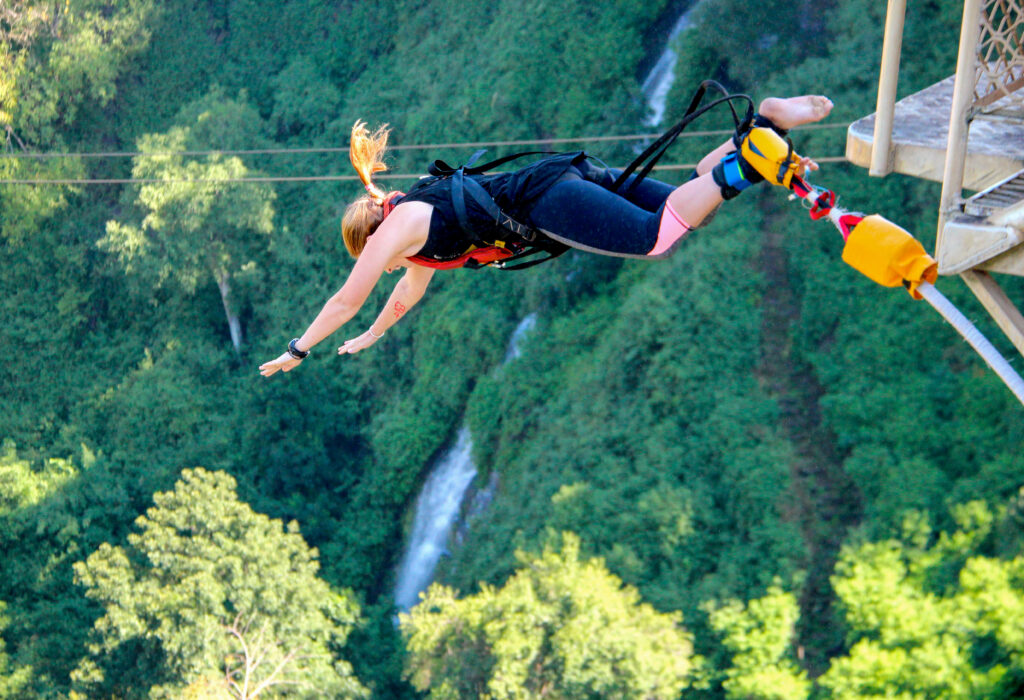 Bungee jumping at Victoria Falls is a truly unique experience. When you bungee jump at Vic Falls, you jump off the bridge between Zambia and Zimbabwe overlooking one of the seven natural wonders of the world. If you are interested in bungee jumping, I wrote a blog post about my experience.
---
White Water Rafting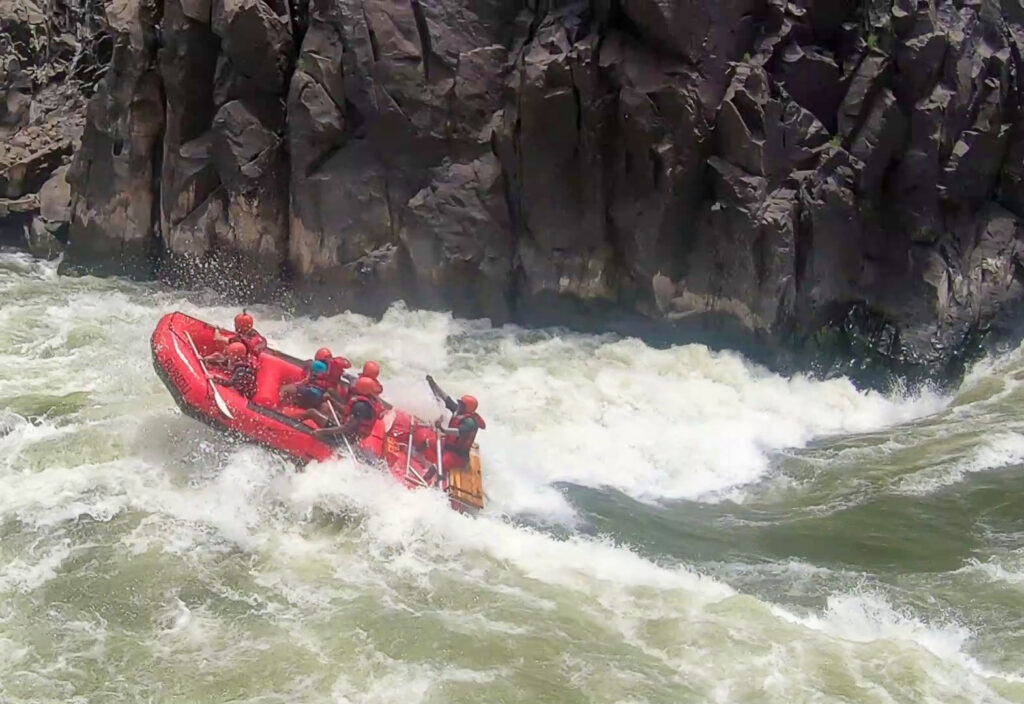 White water rafting on the Zambezi is rated as one of the best white water rafting destinations in the world, and for good reason. White water rafting can start from either the Zambia or Zimbabwe side. Check out this blog post all about my experience.
---
Devil's Pool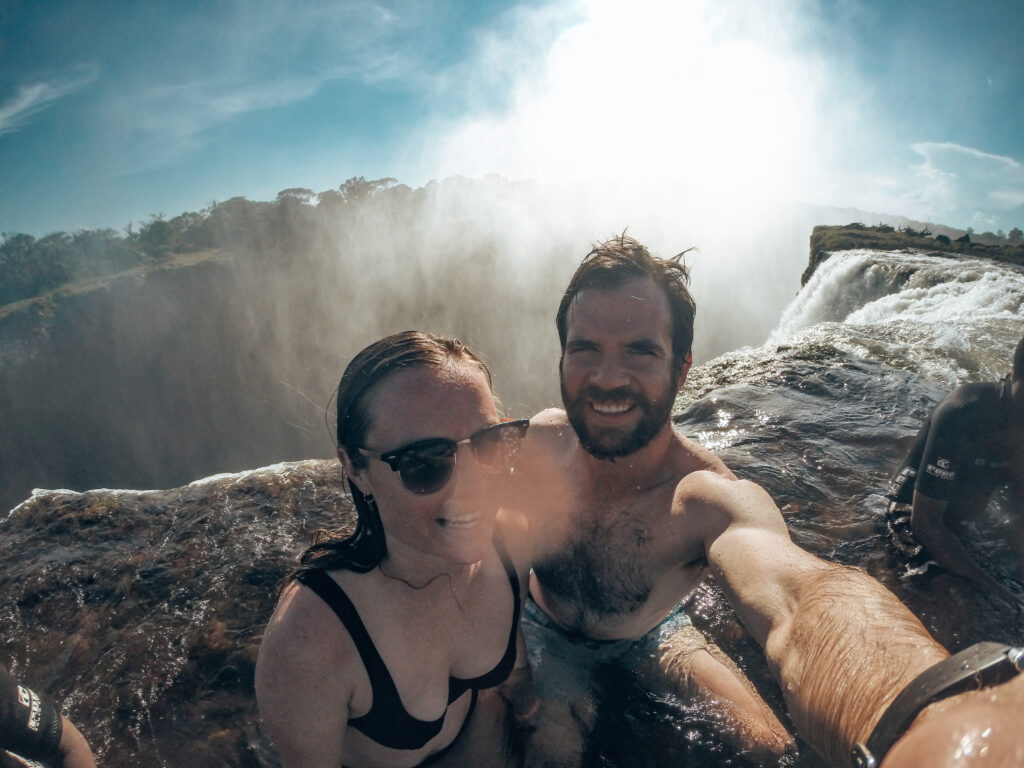 Devil's Pool is a small pool of water on top of Victoria Falls in which you can swim during the low-water season. It is definitely a once-in-a-lifetime experience that I highly recommend for everyone. The experience starts from the Zambia side and is only available from about July to January. Read all about my visit here.
---
Game Drive
Game drives are a great opportunity to see wild African animals in their natural habitats. Most lodges offer game drives as part of the package but if you are staying at a backpackers, they can help you organize a game drive.
---
What to bring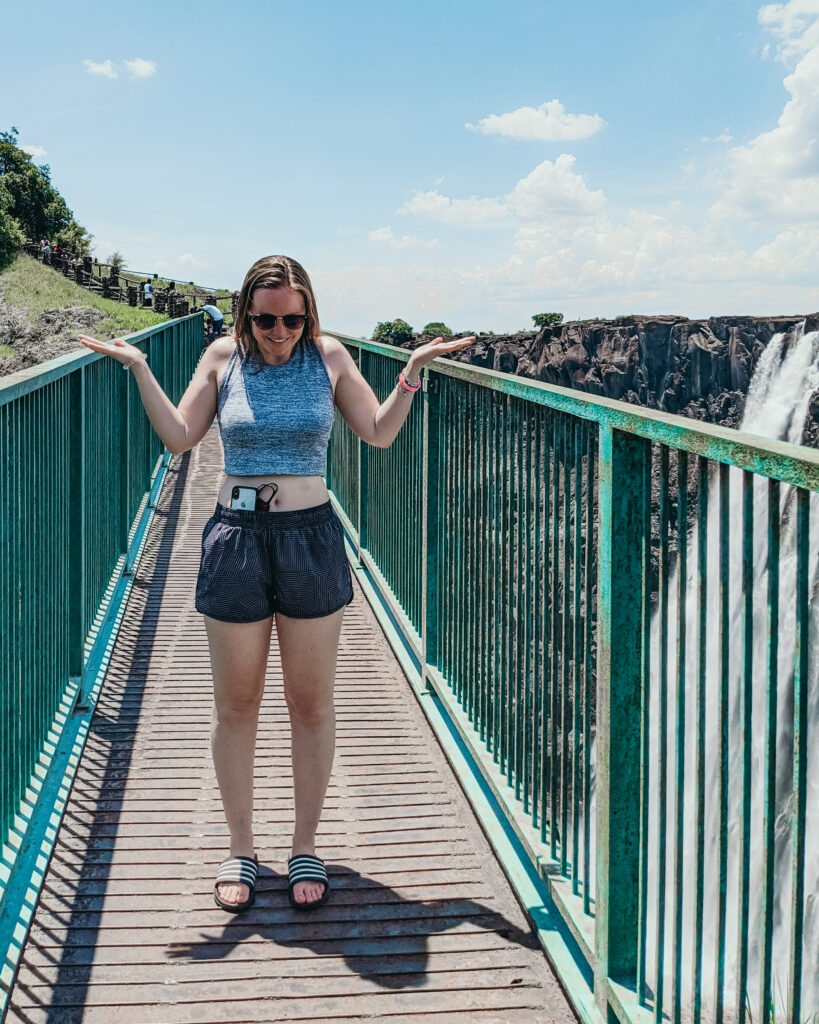 When people travel to Africa, they often pack like they are Bear Grylls traveling to a remote island. That is not necessary. Zambia and Zimbabwe have most things that you need in a pinch. However, I highly recommend bringing:
Identification documents – including a passport if you plan to cross the border.
ATM/debit card that you can use internationally – you will need money to tip activity guides. Zambia's currency is the Kwacha but for larger purchases, they often charge in US Dollar. Zimbabwe uses the Zimbabwe Dollar, the US Dollar, and sometimes even the South African Rand. Zim often has money shortages so bring cash!
Any prescribed medication that may be hard to access without a doctor abroad.
Camera equipment, especially a GoPro if you plan to do any water activities – there aren't many camera shops in Vic Falls town and Livingstone.
Also, things that can be bought in Zambia/Zimbabwe but are necessary include sunscreen, waterproof shoes, and sunglasses.
---
For more details on our last visit to Victoria Falls, watch my full video.
---
Have you ever been to Victoria Falls? Do you prefer the Zambia or Zimbabwe side? Do you have any tips for visiting Victoria Falls? Let me know in the comments!