Kafue National Park, Zambia
Seeing Lions in Kafue National Park with Ila Lodge
During this past year living in Zambia, I've had the opportunity to visit many beautiful places (check out those blog posts here). However, I had yet to visit Kafue National Park. Finally, Alex and I were lucky enough to stay at Ila Lodge in the Kafue National Park and even see wild lions mere feet from our game drive vehicle! Here is everything you need to know about seeing wild lions in Kafue National Park with Ila Lodge.
---
Where is Kafue National Park?
The Kafue is a national park and a river that runs through Zambia. The Kafue National Park is the second-largest park in Africa and sits in Western Zambia. The park is about 22,500 square kilometers, which is roughly the size of Wales!
---
What is GMA?
Game Management Area (GMA) is a buffer area surrounding national parks. Unlike the national parks, some hunting is allowed and people actually live in the GMA, oftentimes coexisting with wildlife. Unlike other parts of Africa where national parks are enclosed with fences and animals cannot leave, in Zambia, wildlife is free to roam where they please, whether that means in the national park, GMA, or even city center (although that does not happen often).
---
Staying at Ila Lodge
Ila Lodge sits on the border of the Kafue National Park and the GMA on the Kafue River, about 3.5 hours outside Lusaka. Ila is a four-star lodge with 10 cabins, which can host about 24 people at maximum capacity. A stay at Ila Lodge includes all activities and meals.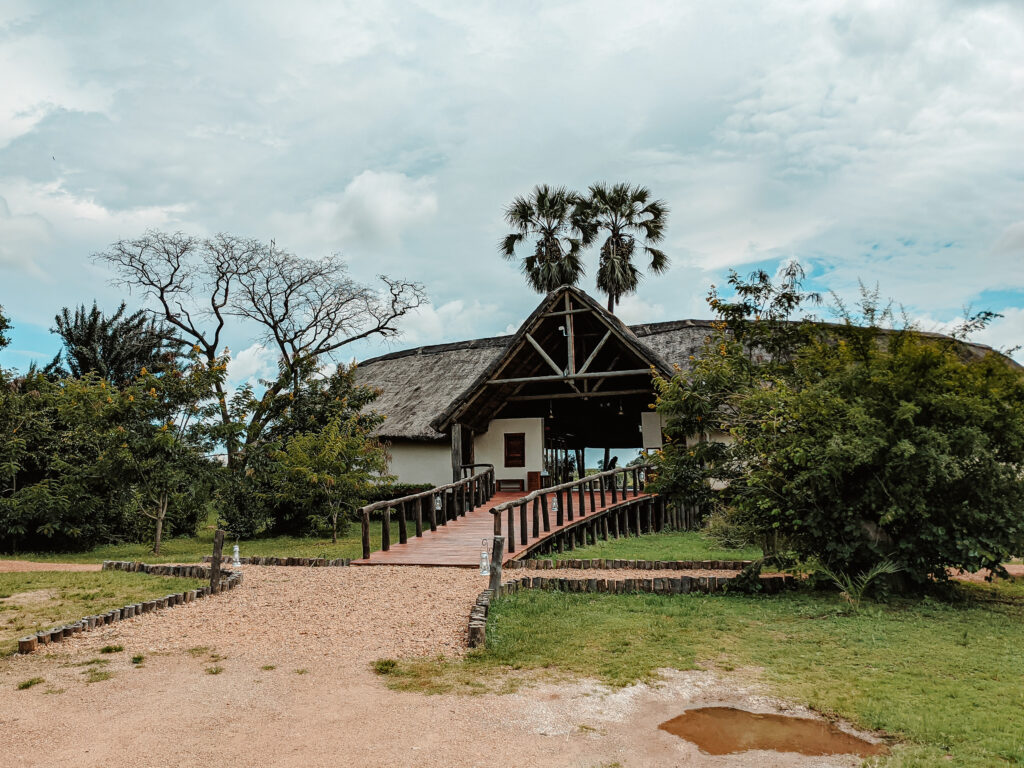 The lodge boasts an infinity pool, electric game drive vehicles and boat, and even a resident subadult hippo! (Apparently calling him 'subadult' isn't mean, it just means he's young haha). Hippos are actually nocturnal and graze at night, but the staff at Ila told me that this hippo grazes during the day because the other hippo pick on him 🙁
---
Activities
sunset cruise
Since Ila lodge sits on the Kafue River, every evening the staff takes the boat out for a sunset cruise. From the river, you can see hippos, crocodiles, and even land animals. In the winter, when water is scarce, animals, like elephants, like to visit the river to get a drink of water.
Game drive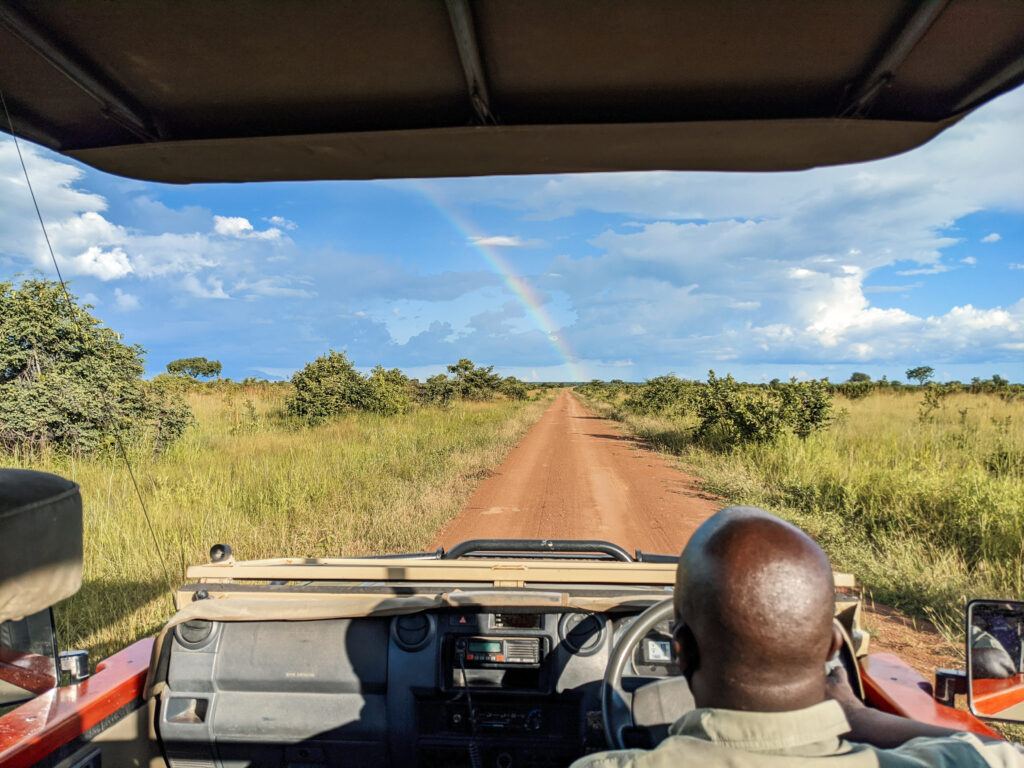 Every morning at 6 a.m. and every evening at 4 p.m., the lodge hosts a game drive through the GMA and national park. Early morning and late evening is the best time to see game as that is when wildlife is most active. Alex and I went on a game drive in the evening and saw lions a mere 10 feet from our vehicle!
We also saw a lone male elephant at night, a hyena walking on the highway, zebra, a small crocodile near the lions, vultures following the lions for scrapes, hartebeest, impala, puku, and of course, guineafowl and francolins. As the sun was setting, we stopped for drinks and snacks to watch the sunset – it was absolutely gorgeous!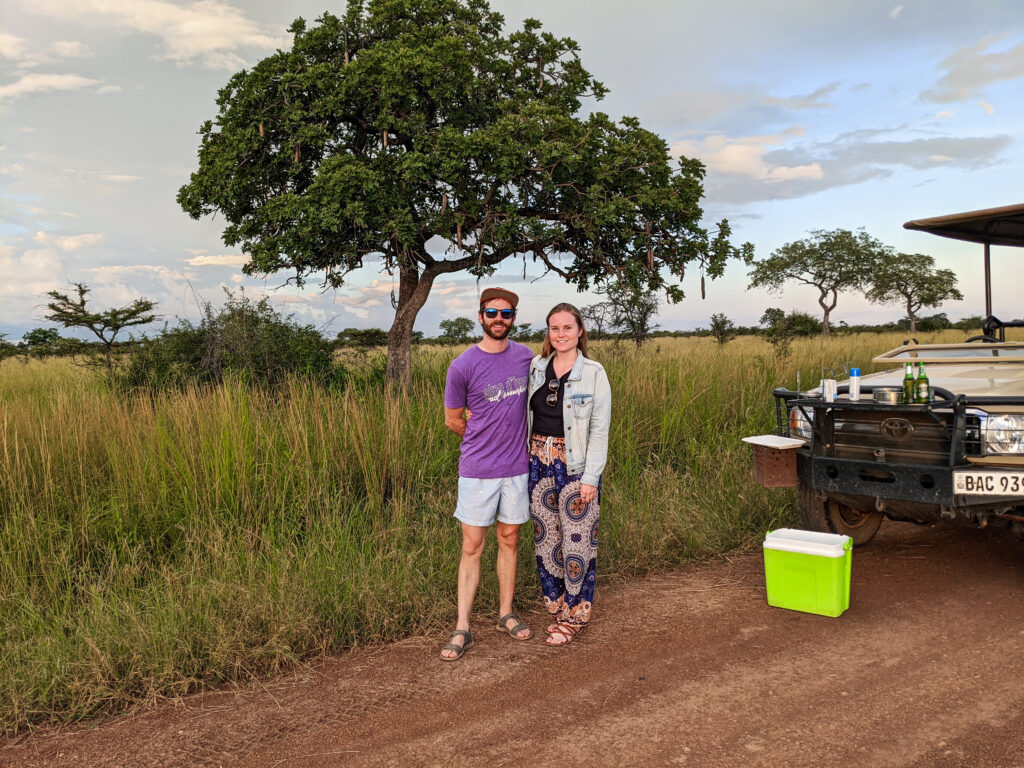 Ila Lodge also offers walking safaris, fishing, and more.
---
Watch more from our trip to Ila Lodge and the Kafue National Park here:
---
Have you seen lions in the wild? Have you visited Kafue National Park or Ila Lodge? Tell me about your experience in the comments!