6 days in the Hospital + Pelvic Fractures
On Friday, 9 April, I got into a bad horseback riding accident. I sustained multiple pelvic fractures from the accident and spent 6 days in the hospital. This part of the story begins after the accident and after my time in ER.
---
COVID-19 WAiting room and seeing Alex
As I mentioned in my previous post, while I was in the ER, I got a COVID-19 test and was admitted to the hospital. I was sent to a small (I mean, small) private room where they put patients before their COVID-19 test results come back. I was still in my horseback riding clothes, I still had on the brace that was providing stability to my pelvis, and I was still covered in dirt and grass from the accident.
Someone finally reached Alex and he was on his way back from the Lower Zambezi. He stopped at our house to get the car (he had carpooled with his boss to the Lower Zam), and pick a few things up for me. We were able to talk on the phone and he quickly made his way to the hospital, arriving around 4 p.m (If I remember correctly). Luckily, he was able to visit me. I think it was allowed for a few reasons: one, I hadn't seen him since the accident and the doctor was being kind; and two, I was still in the 'COVID-19 waiting room'.
I was so happy to see Alex. He was able to stay for a few hours, although he tried to keep a low profile since we didn't want him to get kicked out sooner. He also tried to help comb my hair and get all the grass out, but, let's be honest, the attempt was futile.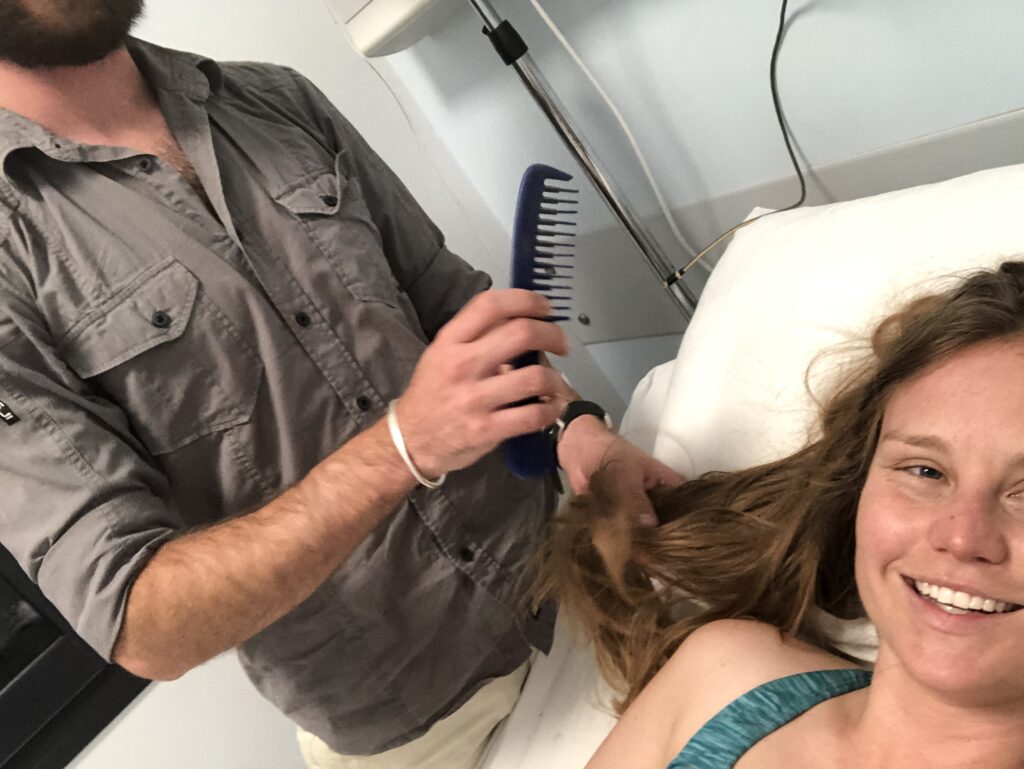 I was brought lunch before Alex arrived and dinner once Alex got there, but I had absolutely no appetite, so I gave most of my food to Alex. For some reason, I was in a great mood. I wasn't in any pain (thanks, morphine), I was happy to see Alex, and I had a very naive idea of what the next 6 weeks would hold. I thought "bed rest" meant that I had to spend most of the day in bed, but I could get out of bed to go to the bathroom and take a shower. Boy was I wrong.
That evening, I had to be cut out of my leggings. Mostly because I was wearing a brace, which they didn't want to take off, but also because the leggings were tight and it would have been way too painful to pull them off my hips. Although looking back, those were my favorite leggings and we probably could have made a plan.
I also had to pee (I hadn't peed since about 7 a.m. before my riding lesson and it was now evening), but that was proving to be quite the obstacle. The nurses eventually put a pee-pad under me and I just peed… laying down… onto a pee pad. That would mark the beginning of, what felt like, losing my dignity.
Later that night, the nurses told me it would be best if I got a catheter. If you aren't familiar with a catheter, it's basically a tube that is inserted into your urethra and bladder and allows urine to flow into a bag attached to the end of the catheter. I was very against getting a catheter. The whole thing seemed painful and unnecessary – but everyone insisted.
I don't know if it was because I was high on morphine or what, but getting the catheter wasn't that bad. It was a little uncomfortable and for an hour or so after insertion I felt a bit like I had a UTI and a full bladder, but those feelings went away. Honestly, I was kind of grateful not to need a diaper.
Alex left that night and I just slept. The next morning, my COVID-19 test came back negative so I was moved to the COVID-free wing of the hospital. Luckily, I had a large, shared room all to myself.
---
5 days of misery
Once I was moved to the COVID-free wing, all the days kind of blended together.
My schedule went something like this:
I would get woken up at 5:30 a.m. to have my vitals checked, take my meds, get my sponge bath and my sheets changed, and then go back to sleep for a couple of hours. Around 8:30 a.m. I would get breakfast (which I wouldn't eat), and then the doctor would come in to check on me. We would talk about how I was feeling and when I could go home (the proposed day was always changing and always too far away for my liking). I would spend my days watching Netflix, Disney+, and YouTube, and reading on my Kindle (since my phone and Kindle were the only things I had with me for entertainment). I would get lunch and dinner, refuse to eat, and get kindly reprimanded by the nurses. I would video chat with Alex when he had breaks, and in the evenings, I would facetime with my friends and family in the states. The nurses would come in every couple of hours to check my vitals and give me my meds. The first few days of my stay I would take a lot of naps, but by the second half, I had stopped doing that. Naps made me feel groggy and way sicker than I was. I never went to bed until midnight, mostly because I was facetiming people and also because I was in pain, and the nurses coming in every few hours never lent itself to a good sleep schedule.
Oh, and I cried. We can't forget about that. I would say, on average, I cried about 3 times a day. Usually when I was video chatting with Alex or facetiming my parents and friends. But I also cried to the nurses when I was lonely and in pain (nurses are great), and to the doctor when I was begging him to let me have a visitor.
Mental health is a huge contributor to physical health and my mental health was at a low during my hospital stay and recovery. I was so lonely, not only because I had no one to spend time with, but because I was going through one of the most painful and traumatic periods of my life completely by myself. All I can say is that I am grateful for smartphones and video calling technology. But I would like to add that I respect the hospital's decision to not allow visitors during the pandemic, and I have the utmost amount of empathy for people with worse conditions than my own going through it alone.
---
Bits and bobs from my hospital stay
Despite my hospital stay being a bit of a blur, there are some things I vividly remember.
Catheter
[Proceed with caution, this next section is about pee and poop]
As I mentioned, on Friday, my first day in the hospital, I had a catheter put in to pee. It was working great. However, by Sunday, I still hadn't had my first bowel movement since the accident (really, since the day before the accident) and despite all the stool softener that the nurses were forcing down my throat, nothing was moving.
Luckily, that evening, well, let's just say it was happening. However, having the catheter in while trying to have a bowel movement was proving to be quite difficult. I kept feeling like I was pushing out the catheter and urine was leaking out of my urethra, out of the sides of the catheter. It was pretty traumatic for me and I felt like I couldn't poop with the catheter in. This is when I had my first big meltdown. I was tired, in pain, backed up, lonely, and overall just emotional. The nurse was really nice and caring but I was still losing it.
We eventually agreed to let me take out the catheter, poop, and then put in another catheter. So that's what we did. It all went to plan until it was time to put the catheter back in. Inserting a new catheter was the most excruciating pain I had felt since the accident. It felt like someone was putting a lit match made of razor blades up my urethra. I was in so much pain, I couldn't go through with it.
I was in such a poor state mentally, the nurse had to hold me while I cried. We agreed that I would sleep and try again in the morning.
The next morning, I was so anti-catheter, I basically flat out refused to get another one put in, and insisted I would use diapers from there on out. Everyone (doctors, nurses, my family) advised me against that, but they respected my decision. That decision would ultimately come to haunt me, but more on that later.
Going off Pain medication
One of the main reasons that I was staying in the hospital was for pain management. Pelvis fractures are quite painful and the best pain meds are apparently administered via IV or shots. I couldn't go home until I was weaned off IV/shot pain meds and managing the pain solely on oral pain medication.
I was determined to make that happen as quickly as possible. Not only was going off the IV pain meds essential to being allowed to go home, but the IV pain meds were also completely destroying my appetite (meaning, I didn't have one) and some of them were making me horribly nauseous. I barely ate the entire time I was in the hospital, to the point where the nurse had to give me a blood sugar test to ensure my levels were okay.
There were a few times when I could think of something that appealed to me, but the nurses said I was on a strict diet catered to my injury and planned by the hospital nutritionist and I could not deviate. I did eventually convince them to give me scrambled eggs and fruit, which was the only thing I could stomach for a few days.
I was in such a rush to get weaned off the pain meds and go home, I started refusing pain meds altogether. When the accident happened, the pain was a 10 out of 10. When I was on morphine, the pain was a 3 out of 10. When the pain meds started to wear off, it was about a 7 out of 10. By Day 3, when I started refusing pain meds, the pain was about a 6 out of 10. During the day, I was able to manage the intense pain by distracting myself with Netflix and chatting to people, but at night, the pain was too intense I eventually allowed the nurses to give me morphine and by Day 4, the lighter pain meds.
By Day 5, I had managed to switch to all oral medication! Going off the intense pain medication also allowed me to get my appetite back for a day or so, which was great!
Movement
I wasn't able to move a lot while I was in the hospital. I had to roll over on my sides to get my sheets changed and to get bathed. Not only was it painful, I just physically couldn't do it because I was so weak. Someone either had to pull or push me onto my side. I also could barely scoot around the bed and I couldn't lift my legs at all.
Alex's "Covert" Visit and my mom's arrival
The day before my discharge, Alex was allowed to visit because they wanted him to learn from the nurses how to take care of someone with a severe pelvis injury. I mean, could have learned this stuff the day he picked me up from the hospital? Yes. Did I want Alex to come a day early and spend some time with me? Double yes.
Alex and I hung out for a while and he even brought me doughnuts, which was the only thing I was craving once my appetite came back.
My mom also happened to be arriving in Zambia that afternoon to help with my recovery since I needed someone at home with me 24/7. Unfortunately, she didn't have time to come to the hospital from the airport, so Alex's stepdad picked her up and took her back to their house. Once Alex left the hospital, he went to his mom's house, they all had dinner, and then Alex and my mom when back to our house in preparation for my discharge from the hospital the next day.
Random annoyance
One thing that seems very minor but was really annoying at the time was my matted hair. My hair was so dirty when I got to the hospital after my accident that when they washed it, the water was brown. During my 6-day hospital stay, my hair was only washed once and they used liquid body soap to wash it. I mean, at the time I was just grateful to have clean hair, but it did lead to some matting.
---
going home
On Thursday, 15 April, 6 days after my accident, I was finally allowed to go home! I was so happy I could cry! The plan was for my mom and Alex to go grocery shopping in the morning to stock up on some things that we needed and then to come to the hospital to collect me. I would then take an ambulance home (since I needed to remain absolutely horizontal). However, it would be a rough morning before I would see my mom and Alex and get to go home.
bathing
The morning started with the roughest bath ever! Normally the nurses are quite gentle and it's kind of nice getting clean and then getting cozy in fresh sheets, but she was not interested in being gentle. This wasn't a big deal, but anyway, these are my memories, so that's what I'm writing.
Neurogenic bladder
On Monday after the accident, and the day after I got my catheter out to poop, I was supposed to get a new catheter put in, but I refused (I realize that I probably come off as a very difficult patient, but I hope you know that every time I "refused" something, I did so politely haha).
Around lunchtime, I felt a UTI coming on. I had all the symptoms, and actually, worse symptoms than any UTI I'd had before. I was convinced it was because of the catheter and it made me hate the catheter even more than I already did. On Sunday, when the first catheter was taken out, they did a urine test, which came back negative, but I assumed the UTI was caused by the second catheter they had tried to put in and then taken out, which is why the test was negative. I was certain if they did a test on that day, Monday, it would be positive. Anyway, they didn't do a test, but they put me on a course of antibiotics anyway, just to be safe.
When I've had UTIs in the past, the antibiotics usually clear up the UTI symptoms within a day, but this UTI wasn't going anywhere. Days went by and I kept telling people that I was in pain but they just said to keep waiting. Honestly, by Day 5, the pain from the UTI (and the other symptoms) was more frustrating than the pelvic breaks.
If you remember, I didn't have a catheter at this point so I was still using a diaper. I had difficulty initiating a stream, I had a burning sensation when I urinated, my bladder felt full constantly, and – the worst symptom, which I'd never had before – I had no control over my bladder. I'd be talking to someone or just laying down, and all of the sudden urine would start flowing out of my bladder and I had no control over it! I was so frustrated and upset and I felt like I wasn't being heard by the doctors.
Finally, on the day I was supposed to go home, the doctor came to see me. I told him my UTI was just getting worse and worse and I needed different antibiotics because nothing was working. He informed me that I didn't have a UTI and, in fact, what I was suffering from is called a Neurogenic Bladder. Basically, the accident had caused some swelling that was pressing on my nerves, which in turn, was messing with my bladder's ability to function normally. He said the only solution was to insert a catheter for a week or two, allow the swelling to go down, and train my bladder how to function normally again. To do that, we had to clamp and unclamp my catheter every two hours so that it learned how to be full and empty.
I initially refused the catheter, but when the doctor suggested I stay an additional day in the hospital, I eventually agreed to the catheter. Getting the catheter in was (again), so painful. I wanted to wait until my mom and Alex arrived at the hospital, but the nurses said they were busy and, anyway, it had to get done. After they put it in and I was about to pick up the phone to call my mom and cry because it hurt so much, my mom and Alex walked in the door. I immediately balled my eyes out.
I begged to get the catheter taken out but luckily my mom and Alex talked me through it and the pain started to go away.
The Ambulance Ride Home
Because I am on strict bed rest and I have to remain essentially horizontal, I had to take an ambulance home from the hospital. It took a few hours to get my discharge papers sorted, get my meds to take home, deal with insurance and bills, etc. before I was put in the ambulance.
They wanted to give me a shot of morphine for the ambulance ride home, but, because I am the most difficult patient ever, I refused. I just don't like how pain meds make me feel. We eventually agreed on half a syringe.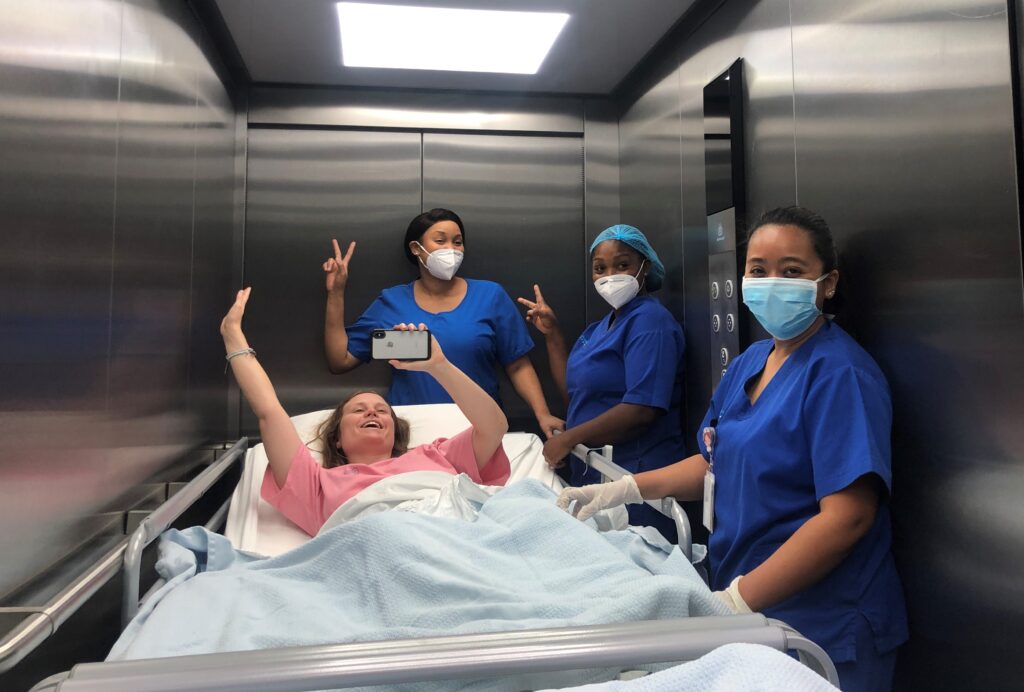 The ride home was great. I was just so happy to be going home, I didn't care about anything else. Two nurses had to come with us to help me get situated in my new hospital bed (which we were renting for my 6-week bed rest), so Alex and my mom couldn't fit in the ambulance and had to drive behind us.
Alrighty, I think that's enough for now. My next blog post will be all about my first week home!
---
Thank you so much for your support during this time! For more updates on my injury and recovery, check out my Instagram @MorganThroughALens.
I also made a YouTube video about the ordeal, which you can watch here:
---
If you have any questions about my injury or the healing process, let me know in the comments section!